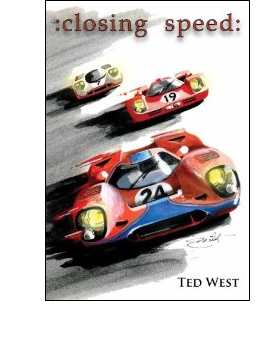 Closing Speed
"It seems like I've known Ted West forever. He was a dedicated member of the racing press for as long as I can remember and our paths ran together for many years. He's a very intelligent, honest guy who worked hard to earn the respect he gets. I'm sure the car enthusiast world will now enjoy and appreciate his fiction."
Mario Andretti

"Buckle up for a high octane romp through the glamorous, sexy, and dangerous world of European auto racing. Guaranteed to get your engine revving."
Len Berman
Sportscaster/Author

"Since childhood, Ted West has watched and written about motor racing. Three months in 1970, following the titanic battles between Ferrari and Porsche for the coveted World Manufacturers Championship, gives him a unique insight into the turbulent, dangerous, thrilling, but never boring world of professional motorsport. In this exciting, fast-paced first novel, Ted displays a deep knowledge of racing drivers and cars, plus of course the lovely women who follow their chosen sport — and men."
Brian Redman
Porsche Team Driver

"Putting together your summertime reading list? Be sure to add Test West's Closing Speed. It's a fun read from an eyewitness to one of the greatest sports car racing seasons ever . . . Porsche 917 versus Ferrari 512 . . . and here's a chance to relive the season through a story of bravery, ego, high speed, and romance. Enjoy."
John Lamm
Award-winning writer for Road & Track
It would be the fastest, most competitive European endurance-racing season ever — Ferrari, Porsche, Alfa Romeo, and Matra battling wheel to wheel for national pride and the 1970 World Manufacturers Championship — and enthusiastic young American racing reporter Nick Thorne would be there to witness it all.
But on the cold spring afternoon when Nick sprinted across a rain-drenched German test track to rescue the World Champion from a fiery wreck, he was thrust headlong into racing's red-hot center. Suddenly on intimate terms with the drivers, their wives and lovers, as race by race the championship rose to its desperate climax, Nick came upon intrigues and rivalries that were vastly more than he bargained for.
From England's rain-drenched Brands Hatch to sunny Monza in Italy, Sicily's gritty Targa Florio to glamorous Monaco and the horrifying speeds of Belgium's Spa-Francorchamps, Nick came to rely on only one truth . . . that in the violence of all-out competition, there are no innocent bystanders.
Please click here to order Closing Speed from Demontreville Press.

Copyright © 2013 Ted West. All rights reserved.