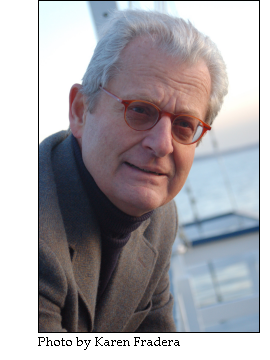 About: Ted West
I wrote my first racing story — a duel in the rain between a D Jaguar and a Mercedes-Benz 300 SLR — in Seventh Grade. Mr. Thorup gave it an "A." So I went right on fantasizing about racing.
In the mid-1950s, there were few races near where I grew up in Northern California . . . with one exception. Belmont Speedway was a quarter-mile dirt track that featured "hardtop" (that is to say, pre-war hardtop coupe) racing. My father and I went a few Friday nights, and I remember one spectacular come-from-behind drive, in particular. The young racer from San Jose was named Joe Leonard. I came to know him decades later as a stalwart competitor in the Indy 500.
But I wanted to see glory — the kind of racing glamour and chilly risk I'd read about in The Racer, a superb 1953 novel by Swiss ex-racer Hans Ruesch. It is the first and best racing novel I know. In its pages, sleek, blindingly fast cars race through all weathers, the drivers battling lethal road circuits, while beautiful women wait for them nervously in the pits.

My problem was, my father was an Episcopal minister, and the only road races nearby — at Pebble Beach and Laguna Seca — were run on Sundays. But my friends (whose fathers were not Episcopalian ministers) told me all about what they'd seen . . . the Ferraris and Alfa Romeos, Jaguars and Maseratis and OSCAs . . . dazzling.
But they also told me about Ernie McAfee. He was an exceptionally fast Ferrari driver who was crushed to death against a Pebble Beach pine tree. It was too grisly. But this only made me want to know more — why did the racers take these mortal risks simply to drive as fast as possible in a sports car? The reason had to be something very, very special . . . or were they simply fools?
I wanted an answer.

When I went away to college in Southern California, I immediately fell in with a group of avid sports-car racing fanatics. Weeks later in the 1960 U.S. Grand Prix at Riverside, I found, at last, what I had been fantasizing about . . . yet it was even more amazing than I dared imagine. At the start, Stirling Moss and Dan Gurney, two of the greatest road racers on earth, streaked away from the pack like ice cubes skittering across a hot griddle. Neither car lasted ten laps, the two Lotus Monte Carlos nose to tail and being driven far beyond the limits of their endurance. But to these two drivers, finishing seemed all but irrelevant; the whole point was to go absolutely as fast as physics allowed. Period. When these two meteors dropped out, for all of us, the race was over. Lesser cars inherited the lead positions.
But I had seen what I craved. Moss and Gurney streaking ahead of all else were the most wondrous, nervous-making, spellbinding spectacle I'd ever seen.
From that day, the only activity I desperately wanted to be connected with was racing. I haunted Laguna Seca, Riverside, Stardust Raceway in Las Vegas and lesser Southern California circuits. But it was writing, the same mysterious private process that earned an "A" in Seventh Grade, which ushered me into the sport. In my Senior year at the University of California, Santa Barbara, I came across a stunning race report written by the immortal Henry N. Manney III of Road & Track. It was a revelation. If Manney could be that brilliant and funny and enduring writing about racing in Europe, maybe there was a serious mission here!
I thought about it a few days and proposed my first story idea to Road & Track — a satire on the magazine's sports-car tests, using my student-budget, oil-burning, eyesore 1955 Chevrolet Del Ray six-cylinder coupe as the test subject. By the time I graduated, Road & Track had published my first two professional stories.
And there was more. Upon graduation, the Editor of Road & Track, having no position for me on his own staff, landed me a job at competing Sports Car Graphic, a small, scrappy Los Angeles-based magazine fondly remembered to this day by its early followers. I spent all my days road testing cars, flying around the U.S. and Canada covering the Can-Am and Trans-Am professional racing series, and learning to write. Pig heaven.
But after living in smog-blighted Los Angeles awhile — it never has pollution today to match the daily soot of 1970 — I needed a change of venue. And one morning at Riverside, Road & Track's Editor asked me, would I be at all interested in going to Europe to cover the 1970 World Manufacturer's Championship? Ferrari 512 vs. Porsche 917 vs. Alfa Romeo T33 vs. Matra MS630? Brands Hatch, Monza, the Targa Florio, Spa, the Nüburgring, Le Mans? Meeting Jacky Ickx, Josef Siffert, John Surtees, Brian Redman, Pedro Rodriguez. . . .
As the old punchline goes . . . would I!
Closing Speed, my first novel, grows out of that unforgettable European spring. It is a nostalgic, fictionalized look at the great 1970 racers, their brilliant cars, and the multitudes of people who surrounded that historic championship. And it was the same grouping of cars immortalized by Steve McQueen in the movie Le Mans. Now, four decades later, it seems like a dream . . . to me and to the friends I treasure who raced in that distant, cruel time.
In the years since, I continued to write for Road & Track, Car and Driver, The New York Times, Vintage Motorsport, Boating, and numerous other publications. Today, I live in Westchester County, New York and cling to the conviction that driving a nice vintage Porsche 911S goes a very long way towards explaining the meaning of life. . . .

More About: Ted West . . .
Click here to see the video interview of Ted at Grand Prix in Bedford, NY.
(Opens in a new window.)
Click here to see THE EXAMINER's feature story on Ted West.
(Opens in a new window.)

Copyright © 2013 Ted West. All rights reserved.